Inventory tracking between Shopify and Quickbooks Desktop
Any order synced by our app will update the stock quantity of the product in Quickbooks. We also do have an add-on feature that will help sync product stock quantity from Quickbooks to Shopify.
In order to enable this feature, you need to log in to Shopify and then navigate to the Apps section>>Quickbooks Desktop>>Feature list and you will get the below screen. Against the "Inventory Sync" feature you need to click on the plus button. Upon doing that an instruction page will appear that will provide you with detailed information on how the inventory sync works. Before proceeding further please do go through the entire information and if you have any queries then you can contact our support team.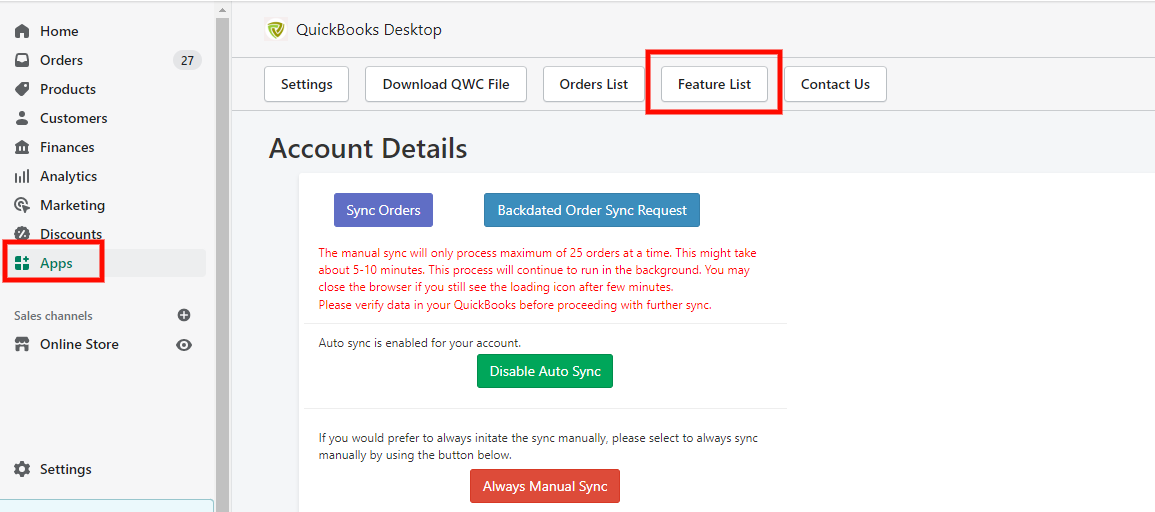 The feature will help you map the products between Shopify and Quickbooks. So before enabling this feature you need to make sure that the items available in Shopify are listed in Quickbooks as well and are set up based on the product mapping option that you have selected on our app setting page. Our team will need to run a small process in order to start mapping the products between Shopify and Quickbooks.
Once the products are mapped between Shopify and Quickbooks, then product stock quantity will flow from Quickbooks to Shopify and this flow is just one way. This add-on feature will also help you sync prices from Quickbooks to Shopify and the frequency of price sync is 1 day.
Was this article helpful?
Thanks so much for your feedback!
Have more questions? Submit a request