Accidentally subscribed to "Inventory Sync" feature
The "Inventory Sync" feature syncs newly created products from Shopify to Xero and it will sync the quantities from Xero to Shopify.
This feature creates the products as tracked type in Xero so when this feature is accidentally subscribed, the orders will not sync and show an error "No items available to sell". This error comes from the Xero end because Xero has restrictions and does not allow to sync those orders in which products have 0 quantities.
If you do not need to track the quantities in Xero and had accidentally subscribed to the Inventory sync feature then this feature needs to be removed.
Follow the below listed steps in sequence to overcome this situation.

1. Unsubscribe to the "Inventory Sync" add on feature from the feature list page of our app.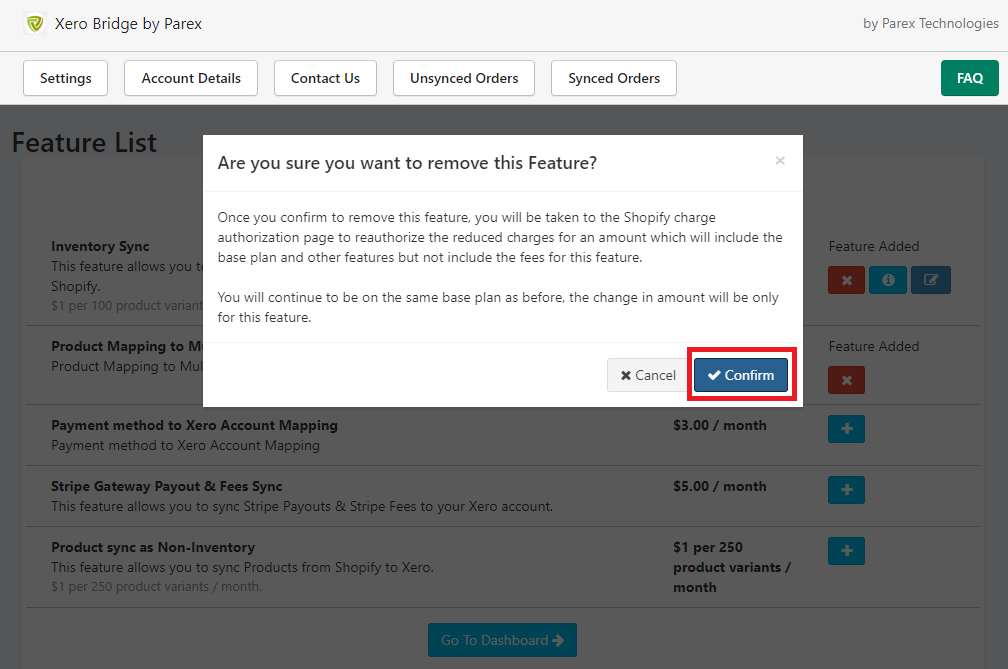 2. Delete the tracked products from Xero and let our support team know. Contact our support team at xospsupport@parextech.com or from the Contact Us page of this site.
3. Our team will resync all products from Shopify so products will be created in Xero as non tracked products.
4. Our team will take necessary action to sync the orders with an error 'No items available to sell'.
Was this article helpful?
Thanks so much for your feedback!
Have more questions? Submit a request