Customer sync options
On our app settings page for customer sync, two options are available, out of which one option needs to be selected as per your requirement.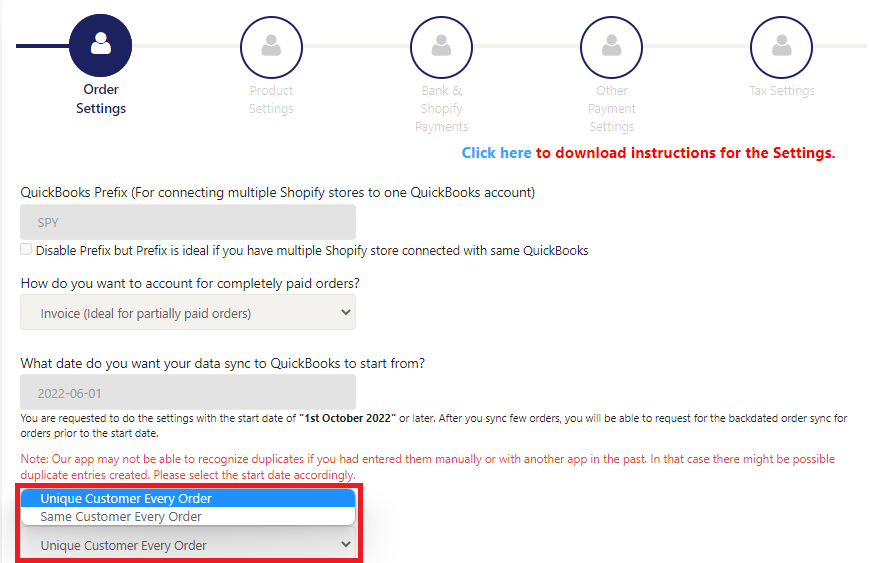 Selecting the option "Unique customer for every order" means, that a customer associated with the Shopify order will also get created in Quickbooks. However, for the customer sync, our app first tries to find a match in Quickbooks instead of creating a new contact. The default mapping process for customers between Shopify and Quickbooks is "Name". The Shopify customer's first/last name should match the Quickbooks customer name. If a correct match is not found, only then our app will create the Shopify customer as a new contact in Quickbooks. For your reference go through the below article on how customer sync works through our app.
The second option "Same customer for every order" is helpful if you do not want to track customer information in Quickbooks. So with this option, you can map any existing Quickbooks customer on our app settings page or even you can create a new customer in Quickbooks and map it on our app settings page. For example, if you have selected "Same customer for every order", and you have mapped a Quickbooks customer named "Shopify Customer" on our app settings page, then all your Shopify orders will get synced to "Shopify Customer" in Quickbooks.
Was this article helpful?
Thanks so much for your feedback!
Have more questions? Submit a request