Inventory Sync Feature
By default, our app syncs products to Quickbook Online from Shopify for synced orders only. Based on the matching criteria selected on our app settings page, our app will sync the order and along with the order, the item will get mapped with the existing item in Quickbooks. However, if the correct match is not found then our app will create a NEW product in Quickbook Online.
If you want all your products and quantities to sync then you can subscribe to the Inventory sync feature from within our app.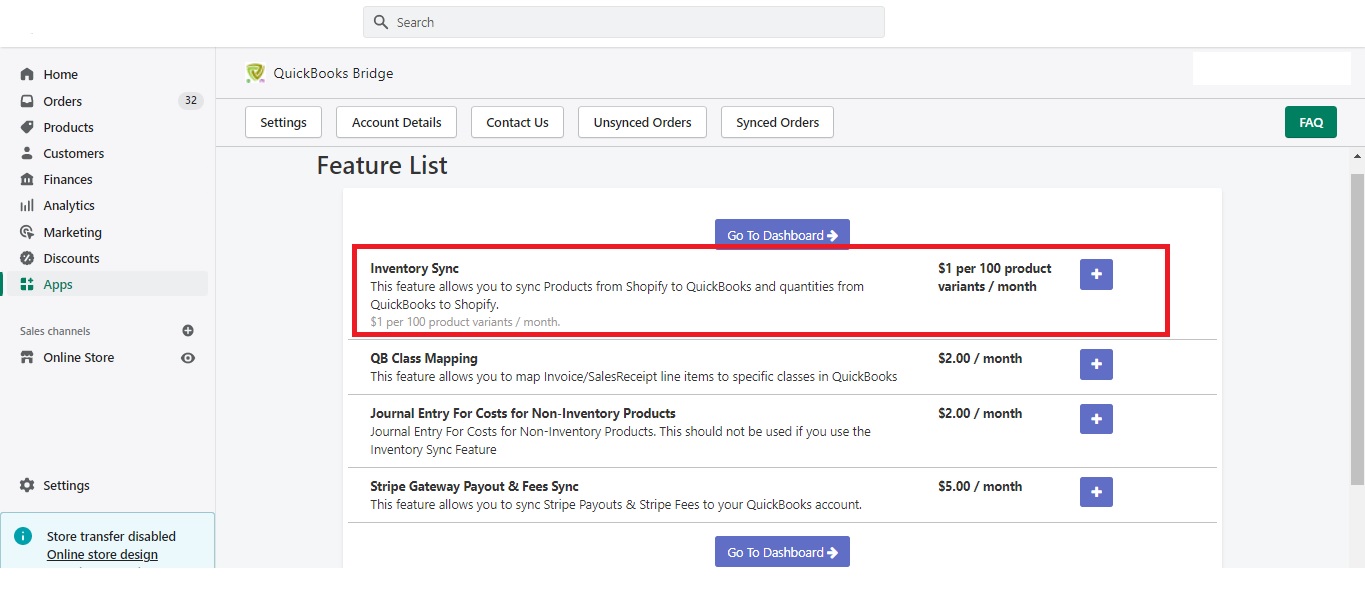 Once you will subscribe to this feature our team will receive your request and they will proceed to enable this feature for your account. Once this feature will be enabled all products will be synced by our app to Quickbooks.
This feature will sync NEW products from Shopify to Quickbooks and it will sync the quantities from Quickbooks to Shopify.
1) When new products are added to Shopify, those products are also created in Quickbooks and reflect the same inventory quantity.
2) However, if new products are added to Quickbooks first, those produced are not created in Shopify
3) If an additional inventory is added to a product in Shopify, the additional inventory will not be reflected in Quickbooks
4) However, if additional inventory is added to a product in Quickbooks, the additional inventory will be reflected in Shopify
The following are important points regarding how the Inventory Sync add-on feature works:
1) New products will sync from Shopify to Quickbooks only and quantities will sync from Quickbooks to Shopify only.
2) It continuously updates the quantities from Quickbook Online to Shopify whenever there is an update in Quickbook Online such as a bulk purchase from the vendor or a bulk sale directly from Quickbook Online or says you adjust to discard a perishable item in your case.
3) The quantity sync is only one way. The only way is for Quickbook Online to Shopify.
4) Whenever a sale or refund is done from Shopify, the quantities are reduced or increased from Quickbook Online. This is a default feature in Quickbook Online.
5) Please do note that all the orders prior to the current date should be synced before you enable the inventory feature.
Please once read all the information before proceeding and if you have any doubt then you can contact us at qbspsupport@parextech.com
Was this article helpful?
Thanks so much for your feedback!
Have more questions? Submit a request