Product sync as Non-Inventory
This feature syncs the products as non inventory from Shopify to Xero.
By default, our app syncs the products that are part of an order, and the products are synced as non inventory. This feature will sync the newly created products as Non-Inventory (Non-tracked) from Shopify to Xero.
Any new product created in Shopify will be created in Xero automatically every few hours.
Depending on the product matching criteria selected on 2nd tab of our app settings, the product will be mapped if an exact match is found in Xero or a new product will be created.
In case of product matching criteria is selected SKU,
1. When the product with a matching SKU exists in Xero, then our app will map that product.
2. When the product with a matching SKU does not exist in Xero, then our app creates a new product in Xero.
Once the product is synced and later you need to change the SKU of a product, please change it in Xero first and then change it in Shopify so that the mapping remains.
You can subscribe to this feature from the "Feature List" page of our app.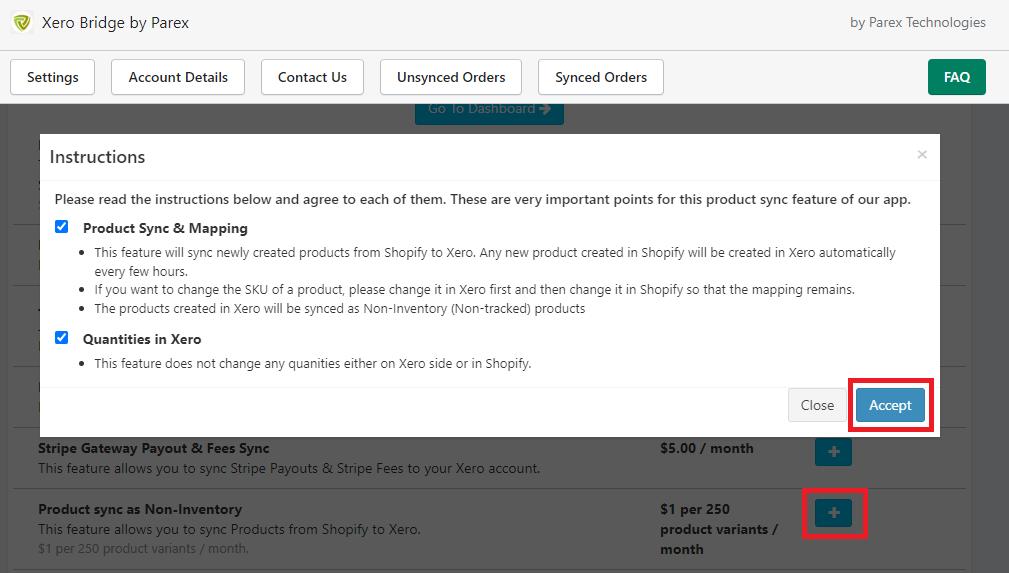 Read the instructions in the pop up and agree to each of them by marking the checkboxes and then click on "Accept" button.
Was this article helpful?
Thanks so much for your feedback!
Have more questions? Submit a request